Introducing C# 9: Questions & answers about Records
Introduction
You have been many to ask me questions about the records in C# 9 I described in my latest article: https://anthonygiretti.com/2020/06/17/introducing-c-9-records/. In this article I will answer them for my greatest pleasure as well as yours 🙂
How can I test C# 9 preview features, especially Records ?
Records are not available on VS 2019 16.7 preview 2 with .NET 5 SDK preview installed, but improved pattern matching is.
So if you want to test Records, and the rest, you have for now to download Linqpad6 beta here: https://www.linqpad.net/linqpad6.aspx#beta
To enable C# 9, go to Edit > Preferences > Query and tick the Use Roslyn Daily checkbox:

Are records a value type ?
No! Records are reference type, they behave like value type (like Structs) for comparison. Like Structs they override Equals virtual method to have "value-based equality", comparing each field of the struct by calling Equals on them recursively. – https://devblogs.microsoft.com/dotnet/welcome-to-c-9-0/#value-based-equality – Microsoft
It means ReferenceEquals (and ==) are comparing Records object reference, unlike Struct which will always return false. Examples:
Can a class have a Record as property ?
Yes it's definitely legal:
Can a Record have a Struct and classical object as properties ?
Yes it's definitely legal:
Are with expressions available for Structs and classes ?
No. And you will a compilation error: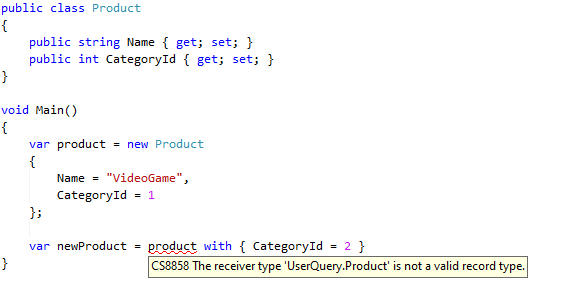 Are Records immutable by default ?
No. They are only acting as value type by default, you have to set all properties with init keyword.