Micro ORMs, alternatives to Entity Framework ? Part 5
Introduction of some Micro ORMs: NPoco
Scenario Used
You can find the scenario used in a last article here.
NPoco's origin
NPoco is a fork from PetaPoco itself Inspired of Massive.
PetaPoco has been forked a second time: XPoco released in 2017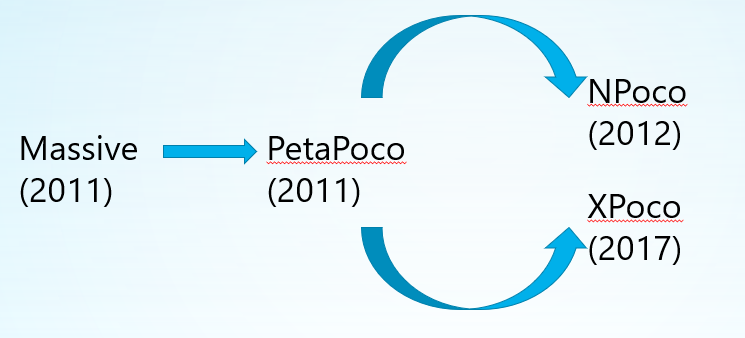 NPoco
PetaPoco's fork
Same advantages of PetaPoco, with additional features :
Enriching an existing object
Supports multiple data sets (like Entity Framework, but more stylish)
Async queries supported (but not all operations)
And many others….
Syntax almost identical to PetaPoco, simpler in most cases
Simplified relationship management
No need for mapping attributes like PetaPoco, aliases are better supported
Testable unitarily

Less popular than PetaPoco, less active community
Code samples :
Required entities and business objects for our scenario :
public class Orders
    {
        public Orders() { }
        public int Id { get; set; }
        public string ProductName { get; set; }
        public int? Quantity { get; set; }
        public DateTime? Date { get; set; }
    }

    //Db entity
    public class WorkOrder
    {
        public WorkOrder() { }

        public int WorkOrderId { get; set; }
        public int ProductID { get; set; }
        public int? OrderQty { get; set; }
        public int? StockedQty { get; set; }
        public int? ScrappedQty { get; set; }
        public DateTime? StartDate { get; set; }
        public DateTime? EndDate { get; set; }
        public DateTime? DueDate { get; set; }
        public int? ScrapReasonID { get; set; }
        public DateTime? ModifiedDate { get; set; }

        public Product Product { get; set; }
    }

    //Db entity
    public class Product
    {
        public int ProductID { get; set; }
        public string Name { get; set; }
    }

Repository sample :
public class NPocoRepository
    {           
        public NPocoRepository()
        { }

        public async Task<List> GetOrders()
        {
            using (var db = new Database("AdventureWorks2014"))
            {
                var data = await db.QueryAsync(@"SELECT TOP 500 [WorkOrderID] AS Id, P.Name AS ProductName, [OrderQty] AS Quantity, [DueDate] AS Date
                                         FROM [AdventureWorks2014].[Production].[WorkOrder] AS WO 
                                         INNER JOIN[Production].[Product] AS P ON P.ProductID = WO.ProductID");

                return data.ToList();

                // Other syntax
                var data2 = await GetWorkOrdersWithProduct(db);
                return data2.Select(x => new Orders { Id = x.WorkOrderId, Date = x.DueDate, Quantity = x.OrderQty, ProductName = x.Product.Name }).ToList();
            }
        }

        public void PopulateExistingOrder(Orders order)
        {
            using (var db = new Database("AdventureWorks2014"))
            {
                db.FirstOrDefaultInto(order, @"SELECT P.Name AS ProductName, [OrderQty] AS Quantity, [DueDate] AS Date
                                                      FROM [AdventureWorks2014].[Production].[WorkOrder] AS WO 
                                                      INNER JOIN[Production].[Product] AS P ON P.ProductID = WO.ProductID
                                                      WHERE WorkOrderID = @0", order.Id);

            }
        }

        public async Task<List> GetWorkOrdersWithProduct()
        {
            using (var db = new Database("AdventureWorks2014"))
            {
                return await GetWorkOrdersWithProduct(db);
            }
        }

        private async Task<List> GetWorkOrdersWithProduct(Database db)
        {
            var data = await db.FetchAsync(@"SELECT TOP 500 WO.*, P.* 
                                                  FROM [AdventureWorks2014].[Production].[WorkOrder] AS WO 
                                                  INNER JOIN[Production].[Product] AS P ON P.ProductID = WO.ProductID");

            return data.ToList();
        }

        public Tuple<List,List> GetWorkOrdersAndProducts()
        {
            using (var db = new Database("AdventureWorks2014"))
            {
                return db.FetchMultiple<WorkOrder, Product>("SELECT TOP 500 * FROM[AdventureWorks2014].[Production].[WorkOrder];SELECT * FROM [Production].[Product];");
            }
        }
        public async Task Add(WorkOrder workOrder)
        {
            using (var db = new Database("AdventureWorks2014"))
            {
                await db.InsertAsync(workOrder);
            }
        }

        public async Task Update(WorkOrder workOrder)
        {
            using (var db = new Database("AdventureWorks2014"))
            {
                await db.UpdateAsync(workOrder);
            }
        }
        public async Task Delete(WorkOrder workOrder)
        {
            using (var db = new Database("AdventureWorks2014"))
            {
                await db.DeleteAsync(workOrder);
            }
        }
    }

More and more fun ? 😉